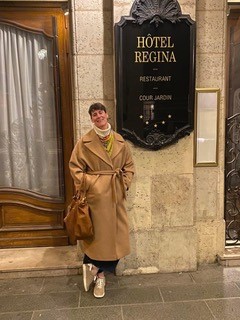 Chrissy Consolé
Chrissy Consolé is the creator and founder of Parisian Niche, your corner of the world for all things Parisian and French flared. Chrissy is a native New Yorker, whose main residence is still on New York City's famously picturesque Upper East Side, Chrissy has been fortunate enough to have lived, worked, and studied in Paris and traveled extensively through France, Europe, and beyond. Chrissy achieved a C1 French level of language, through her travels and over 20 years working in several leading French luxury and fashion houses.
An avid reader, the Parisian Page Turners, a subset of Parisian Niche has been thriving for over three years and she has parlayed this love in to read aloud moments for her subscribers. Forever learning about the city, above all, Chrissy's passion for all things Parisian has her constantly dreaming, planning, creating vision boards focused on Paris and travels, as well as looking forward to her next adventure "home to Paris." She looks forward to sharing her love of literature, detail, beauty, and luxury; where it can be found in the everyday and made accessible. Because Paris is for everyone.
​Christina Consolé, of Parisian Niche, reads a new chapter in each episode of a France- based book. The pages come alive through her soothing and calm voice.
Awards